A couple of months ago, I decided to create and sell graphic assets on Envato. For those who don't know, Envato is the biggest online marketplace to sell digital goods like themes, code snippets, backgrounds, etc.
I've been spending more time with Adobe Illustrator lately due to my interest in graphic design as well as game development. So, apart from blogging and giving graphic design freebies on Super Dev, I signed up as an author on Envato. And my latest addition to Envato marketplace is Material design themed geometric background set created in Adobe Illustrator.
Since, material design and geometric backgrounds are hot topics these days, so I decided to combine these two trends and created Material design themed geometric backgrounds. The material design backgrounds were accepted by Envato and are now available for purchase on Envato marketplace. This is a set of 12 backgrounds in material design color combinations, below you can see one of the backgrounds from this set. Clicking on the image will take you to the item page on GraphicRiver.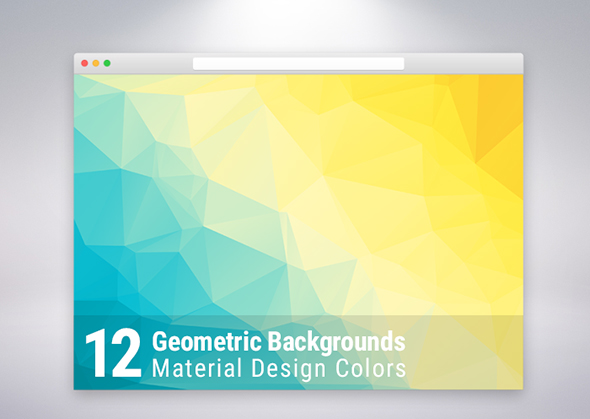 I also made free material design promotional backgrounds and offered them as a freebie on Super Dev.
Envato is currently running contests themed around Material Design both on ThemeForest and CodeCanyon and offering $16,000 in prize money combined. If you are participating in these contests, these Material Design Web frameworks will prove to be an asset for you. And, my material design geometric backgrounds on Envato or these free material design backgrounds might also come in handy 🙂
In case you want any help in becoming an author on Envato and submitting your own graphic design projects on Envato, then do let me know.
PS: If you are getting started with Adobe Illustrator, I would recommend these excellent tutorials from Tuts+.